Return to
Story Listings
Success Stories: Rosie
---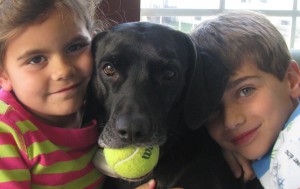 This is Rosie. She was originally rescued from rescue group when she was 1-1/2, and lived with a couple for 3 years. Sadly, illness made it impossible for the family to keep Rosie, who was sent back to the shelter and then to a foster home. We adopted her from the rescue in September. She is a sweet, cuddly, 60 lb lap dog who is wonderful with our children, our 13 year old lab, and us.
After about a month, Rosie started becoming aggressive with strangers and anyone who came to our door, or spent time in our house. She tried to attack runners and other dogs while on walks, and because she is so strong, she was extremely difficult to control... On top of that, we learned that she knows how to open secured pantry and cabinet doors... We've come home to quite a few empty cookie, potato chip and pig ear bags!
Mike of K9 Solutions was recommended for a training session. It was nothing short of amazing. Mike walked in the door and had Rosie under control within minutes. By teaching us how to be the pack leaders in our home, Mike has helped Rosie learned to stop pulling on her leash, walk calmly by our side (even in the presence of other dogs or people), wait by the kitchen when someone comes to the door, and be polite to our guests. As Mike said, he has trained us to rehabilitate her!
We cannot say enough amazing things about Mike and K9 Solutions. Thank you so much, Mike, for helping Rosie learn how to be treasured and loved "furever" part of our family.
-The Steller Family