Return to
Story Listings
Success Stories: Sam
---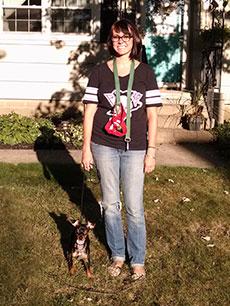 I called Mike because I was at my wit's end with Sam, my 7 pound Manchester Terrier mix. I adopted Sam from a rescue group and after 6 months of trying to train him on my own I was left with a dog that I couldn't take anywhere or bring people or other animals around. I was afraid of the consequences... The growling, the incessant barking, and yes, the ankle biting. After one too many failed trips to the dog parks and turbulent walks around my neighborhood I called Mike with the K9 Solution.
Mike came to my house and sat in a chair while Sam barked at him and growled for over half an hour. Slowly, Sam loosened up and the training process was under way. I was trained and Sam was given the right direction. During our walk around the block, we came across other dogs and cats, neighbors, and even children playing in their yards. I have never felt so confident with my dog. With Mike's guidance and the collar he suggested, I was able to take my dog to a neighbors house. My dog actually was behaving even with two dogs and four people around!
I would recommend K9 solution for helping any dog. My dog had aggression issues and I almost gave him back to the rescue because I was afraid of what could happen. Now I feel more confident in working with him and feel hopeful that Sam and I will have a great time together... And around other people and animals!
-Amanda