Return to
Story Listings
Success Stories: Tazer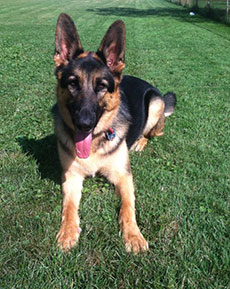 This is Tazer, the coolest German Shepherd I know. Why? It's because he's my dog. I got him from a breeder in New Philly when he was just six weeks old and it was love at first sight. He was so cute, and fluffy and just what I was looking for. He didn't stay tiny long, and it felt like I blinked one day and then suddenly he is what he turned into today. He's currently 105lbs and has more energy than he knows what to do with, and so did I. I enrolled him into puppy classes at PetsMart and every class we went to he picked up on the simple "sit", "stay", and "lay down" faster than the other dogs in his class and he would get bored really quick. They advanced us and he was still bored. We then tried Agility courses at the Summit County Fair Grounds and he LOVED it. The only downfall was that it was one day a week and it still wasn't enough to keep his energy in line.
Thankfully he learned early on the wonderful game of fetch, and with our large backyard it was a perfect fit for him. A tennis ball, Frisbee, or even his rope toy would get him excited enough to run the length – or as far as I could throw – of the yard and combined with a few walks a week that worked for a few months. Then he got older, got more energy and started to form some really bad habits. He would lash out at the other dogs in his Agility class and even the other handlers couldn't come up to him. This bad behavior transferred onto our walks where he would bark aggressively at people and other dogs passing by, and it also transferred to when people came into the house.
Mike was my saving grace. He came out to the house on a sunny afternoon to evaluate Tazer and work with him. I didn't think much would get accomplished, as we had a consultation with another trainer that didn't go over so well, but after an hour Mike was able to play with him in our back yard, pet him, and even stick his hands near his mouth. It was amazing and a bit of an eye opener because I realized my fear of him acting out was a large part of his behavior as well as me not taking him out to get adequate exercise to drain his energy in a positive way.
It's been just over four months since Mike has been to our house and things have made a nice turn around. He still has some issues to iron out but we are working on them. He still loves to play in the yard, we've nearly mastered the "loose leash" walking technique that Mike had talked about, and he hasn't lashed out at other dogs on our walks. We've had friends and family come over to the house and what made those visits extra special was that we didn't have to put him away in his crate, and/or use the muzzle. He's still on his leash, but able to be calm and somewhat interactive with our guests. He's still taking his Agility class and has been steadily advancing through the ranks. Tazer has some issues with other dogs there, but again, we are working on that but usually it is dogs that have a higher energy level that set him off.
We can't thank Mike enough for all he's done or say enough amazing things about K9 Solutions. Thank you so much, Mike, Tazer and I really appreciate the help!